12 fantastic front doors to change your home's look
What's the first thing you notice when you rock up to someone's home, especially the first time? The color of the walls? The front garden? Well, for the majority of us, it's the design of that front door, particularly if we're standing on the front porch for a few seconds waiting for the owners to respond to the doorbell / knocking. That puts quite an importance on the look of a front door, wouldn't you agree? 
Replacing a front door can instantly change the entire appearance of your home's façade and influence curb appeal, something that potential buyers deem as crucial. But in addition to being beautiful, that front door also needs to be sturdy – not only to endure all types of weather, but also keep your possessions and family safe. 
So, what are our options when it comes to the perfect front door materials?
Wood:One of the most popular choices in any country, especially since it can be altered to suit any size, shape and style. In addition, wood front doors can easily be personalized with decorative glass accents, side lights, etc. But keep in mind that, with time, wood naturally warps due to the outdoor elements, meaning keeping up with maintenance on your part in terms of sealing it, fixing or even replacing the entire design. 
Fiberglass: For the look of a wood front door with extra durability, fiberglass is your answer. Fiberglass doors can be stained in a multitude of different colors to perfectly mimic traditional wood while being much more resistant to small dents and nicks than ordinary wood. And with their insulated cores, fiberglass doors offer additional protection from the elements. The downside? They can be more costly than wood doors. 
Steel:One of the best options for those seeking ultra strong and safe front doors. And modern designs also present us with metal entry doors that have insulated foam with a steel panel on either side. But nothing's perfect – while this may make a steel door strong and help to keep cool winds outside, the smallest of dent will be very difficult to repair and might mean you need to replace the entire thing. 
Glass:While a glass door will allow outsiders a peek of your interiors, it will also usher in decadent amounts of natural light and garden views. But on the flip side, this could also mean you'll be inviting in cold air at the cracks of the door. If this and privacy is a main concern for you, we recommend choosing a wood, fiberglass, or steel door with the option of installing glass sidelights for extra style and light.  
And on that note, let's glance at some prime examples of front door beauties to get your daydreaming (and planning) started!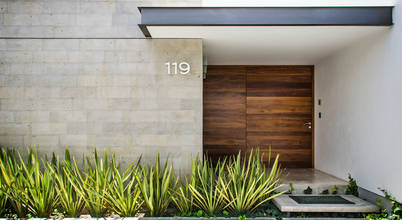 Video of 12 fantastic front doors to change your home's look
12 fantastic front doors to change your home's look
- Explore tonien's board "Fantastic Front Doors", followed by 137 people on Pinterest. See more ideas about Doors, Entry doors and Exterior doors. but whatever you call it, it is the space between the fantastic outdoors and your well-thought-out home that isn't necessarily easy to style. 12 Ways to Enhance Your Front Entry. 55 Fantastic Front Door Design Ideas. 55 Fantastic Front Door Design Ideas, Front Yard Design Music - YouTube Audio Library / Video - RunmanReCords Design Front, Forecourt, Yard, Door, Homes, Outdoors Residential Front Entry Doors Com Fantasy And Also 12. Residential Front Entry Doors Com Fantasy And Also 12 is one of pictures thet are related with the picture before in the collection gallery. If you would like to see the Residential Front Entry Doors Com Fantasy And Also 12 in High Resolution [HD Resolution] version, please press the right click on picures/image then choose "Save as Image" option, and done. 12 Best Georgian Front Doors Images. May 12, 2016 - Our small team design and manufacture Georgian Front Doors in their Nottingham based workshop. Each door is handcrafted using high quality timber 157 Best Cottage Front Doors Images In 2020. Front door ideas and design to add curb appeal for new house, renovation, new build, or remodel: This door in Elephant Ear SW 9168 looks beautiful against the creamy exterior of this home, while black hardware and light fixtures help to complete the look. A Pocketful Of Blue.
Tags: Look, 12 Fantastic Front Doors To Change Your Home's Look
Frame Your Home With Fantastic Farmhouse Front Doors
25 Inspiring Door Design Ideas For Your Home
Change Your House's Curb Appeal
All Design Doors & Ideas
Front Door Design Ideas
Our Current House
Front Door Paint Colors To Create Gorgeous Curb Appeal
30 Inexpensive DIY Projects To Beautify Your Home Exterior
What Are Advantages Of Exterior Fiberglass Doors
Incredible Hand Carved Doors
Best Of Fall: Decorating Ideas & Inspiration
Exterior Front Doors
From Gardners 2 Bergers: Rustic Barnwood Front Door
15 Beautiful Farmhouse Front Doors
What's Haute For Front Doors!
13 Household Pests: How To Get Rid Of Them For Good
Modern Wall Stickers And Decals Change Garage Door Decoration
Before & After: Amanda's Doors
Autumn Front Door Decoration Ideas DIY Projects Craft
Question De Styles : Quelle Porte Pour Quelle Maison
5 Bold Colors For The Front Door
Top 5 Signs It's Time To Replace Your Garage Door
55 Absolutely Fabulous Mudroom Entry Design Ideas
Decorative Exterior Shutters
How To Pressure Wash A House To Clean Siding (Vinyl, Wood
Glassed In Porches Designs • Porches Ideas
Custom Wood Garage Doors By Montana Rustics
25 Best Porch Makeover Ideas And Projects For 2019
Door Wraps
Old Wooden Door Wrap Sticker
40 Brilliant Doormats For Every Cool Human Being
15 Sensational Christmas Front Door Decor With Lovely Red
Add Molding DIY Cabinet Doors
Christmas Home Tour (Rustic Mixed Metal)
MyDesign Home Studio
12 Creative Spring Wreath Ideas
21 Modern Wreaths To Decorate Your Home With This Holiday