12 fantastic front doors to change your home's look
What's the first thing you notice when you rock up to someone's home, especially the first time? The color of the walls? The front garden? Well, for the majority of us, it's the design of that front door, particularly if we're standing on the front porch for a few seconds waiting for the owners to respond to the doorbell / knocking. That puts quite an importance on the look of a front door, wouldn't you agree? 
Replacing a front door can instantly change the entire appearance of your home's façade and influence curb appeal, something that potential buyers deem as crucial. But in addition to being beautiful, that front door also needs to be sturdy – not only to endure all types of weather, but also keep your possessions and family safe. 
So, what are our options when it comes to the perfect front door materials?
Wood:One of the most popular choices in any country, especially since it can be altered to suit any size, shape and style. In addition, wood front doors can easily be personalized with decorative glass accents, side lights, etc. But keep in mind that, with time, wood naturally warps due to the outdoor elements, meaning keeping up with maintenance on your part in terms of sealing it, fixing or even replacing the entire design. 
Fiberglass: For the look of a wood front door with extra durability, fiberglass is your answer. Fiberglass doors can be stained in a multitude of different colors to perfectly mimic traditional wood while being much more resistant to small dents and nicks than ordinary wood. And with their insulated cores, fiberglass doors offer additional protection from the elements. The downside? They can be more costly than wood doors. 
Steel:One of the best options for those seeking ultra strong and safe front doors. And modern designs also present us with metal entry doors that have insulated foam with a steel panel on either side. But nothing's perfect – while this may make a steel door strong and help to keep cool winds outside, the smallest of dent will be very difficult to repair and might mean you need to replace the entire thing. 
Glass:While a glass door will allow outsiders a peek of your interiors, it will also usher in decadent amounts of natural light and garden views. But on the flip side, this could also mean you'll be inviting in cold air at the cracks of the door. If this and privacy is a main concern for you, we recommend choosing a wood, fiberglass, or steel door with the option of installing glass sidelights for extra style and light.  
And on that note, let's glance at some prime examples of front door beauties to get your daydreaming (and planning) started!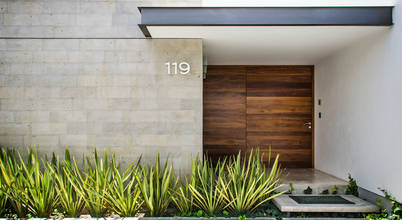 Video of 12 fantastic front doors to change your home's look
Tags: 12 Fantastic Front Doors To Change Your Home's Look
Frame Your Home With Fantastic Farmhouse Front Doors
Front Door Paint Colors To Create Gorgeous Curb Appeal
25 Inspiring Door Design Ideas For Your Home
Boost Your Curb Appeal: Painting Your Front Door
5 Bold Colors For The Front Door
Our Current House
13 Household Pests: How To Get Rid Of Them For Good
Exterior Front Doors
What Are Advantages Of Exterior Fiberglass Doors?
Let's Examine Ideal Front Door Locksets
Best Of Fall: Decorating Ideas & Inspiration
What's Haute For Front Doors!
From Gardners 2 Bergers: Rustic Barnwood Front Door
Best 25+ Schlage Locks Ideas On Pinterest
Before And After: Home Exterior Makeovers
20 Home Exterior Makeover Before And After Ideas
Before And After Curb Appeal. Change Roofline On 1 Level
Nobody Said Our Barn Doors Have To Stay Inside! They Look
159 Best Images About Before And After Exterior Makeovers
20 Cheap Ways To IMPROVE CURB APPEAL (...if You're Selling
15 Beautiful Farmhouse Front Doors
Nobody Said Our Barn Doors Have To Stay Inside! They Look Great On A Tool Shed.
…favorite Things Friday
Artificial Front Porch Topiary
20 Cheap Ways To IMPROVE CURB APPEAL (...if You're Selling Or Not)
Top 5 Signs It's Time To Replace Your Garage Door
We Own Blackacre: Before And After: Replacing Bi-fold Doors With Double Doors
How Many Bifold Door Panels Should You Choose?
Door Canopy, Porch Canopy, Door Canopy Kits
Before & After: Amanda's Doors
How To Choose The Ideal Elegant French Door Curtains For Your Home
We Love The Way The Carriage House Garage Door Design Brings Out The Roof Lines And Color
Autumn Front Door Decoration Ideas DIY Projects Craft Ideas & How To's For Home Decor With Videos
Can I Use Porcelain Tiles Outside?
Porch Pillars, Lean To And Stone Veneer On Pinterest
Fridge Makeover, Fridge Decor, Refrigerator
Modern Wall Stickers And Decals Change Garage Door Decoration
Leonard Buildings & Truck Accessories
Question De Styles : Quelle Porte Pour Quelle Maison?
Fantastic Exterior Shutters For Windows At Home Depot In Plan 4
Brick House Paint Colors
40 Brilliant Doormats For Every Cool Human Being