Transom windows: a useful design element
There are indeed very few architectural structures & details that have survived centuries of technological advancements & passing trends like transoms have. Whether it is transom windows over doors or other windows, this style has survived since its introduction in 14th century Europe when homeowners appreciated that an opening over an entrance would be high enough to avoid any prying eyes while allowing for a glimpse of the sky & some fresh air. Improvement in style & functionality came about with the development of leaded glass followed by sheet glass as well as hinges & iron bars to make it easier to operate the windows. Although transoms were out of fashion in the 1970s & 1980s, present day home-owners are rediscovering how these windows help inject an original touch to a space alongside adding in a little more natural light.
Starting cost for transoms is under US$100 for non-operable vinyl, aluminum or wood frames, and it gets pricier for operable or intricately designed ones. In some models, cladding is offered over a wood frame- this adds to the cost of exterior transoms AND also to essential weatherproofing; these oftentimes boast of a better quality and can go upto hundreds of dollars. For new residential constructions, it is not unusual to pay in thousands for a design which includes a door, sidelights & transom- all within a single sealed unit. 
Though installation varies according to the door & ceiling height, interior/ exterior wall, and weight-bearing scenario, the standard procedure for incorporating a transom is to do away with the drywall and/or exterior cladding above the door, and then remove a section of wall studs so as to re-frame that very section for accommodating the new addition. Once the window is set, a new drywall is installed on that section. For an exterior wall, the exterior cladding is then replaced. The last step is to install the window trim. It is important to make sure that the transom window is a structural fit to your home and not simply an unsightly decorative piece. High ceilings are more suited to transoms as compared to the standard 8 foot ceilings, although a couple of narrow window models may fit in over doorways in the typical non-load bearing interior partition walls. But, it is crucial to carefully determine the rough-in framing space needed for that specific model. Load bearing walls may need opening up of the entire wall section to change the framing & add more structural support, so it is advisable to seek professional help in choosing a transom window for an existing wall. Once you know the style & specifications of transoms most suited for your home, you can customize it further to your preferences.
Want something more for your windows? Here are some innovative ideas. And if you are looking for some professional guidance on home inspiration, homify free consultation is where you will find all your answers!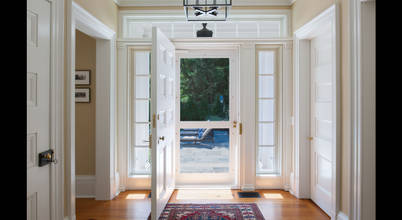 Transom windows: a useful design element. Transom windows: a useful design element ects will tell you that a transom is most useful in separating the framing from a door from the framing of a window. I think this example pretty much nails that purpose from a modern perspective. The chunky wood beam above the glass doors is committed to the six separate Frenchies below, while the beams in the roof snugly hold the three asymmetrical
Transom Windows: A Useful Design Element. A transom window is positioned directly above the horizontal top frame of a window or door. Transom windows have been employed as key architectural elements since long. When ceilings were higher and heating & cooling systems more rudimentary, transom windows formed an integral part of a home's ventilation system. Commonly seen in historical styles, mostly in New Orleans homes, transom windows
Video of Transom windows: a useful design element
Transom windows: a useful design element
9. Nutrition researchers have known for some time that certain foods rich in nutrients called flavonoids -- including wine, tea, and a wide variety of fruits and vegetables -- might Interior Transoms (and Windows/doors). I would guess that is a 16" transom. "Weird" is a subjective opinion. It is not uncommon to have doors and windows at different heights. The most proper (and most expensive) look in my opinion would be to match the 6-8 or 8ft. line all the way around and add the transoms above. Transom Windows, Home, Home. This Pin was discovered by Tiffani DeWitt. Discover (and save!) your own Pins on Pinterest. 38 Best Transom Window Ideas Images In 2019. 21 Apr 2019 - Explore arsenalangel's board "Transom window ideas", which is followed by 359 people on Pinterest. See more ideas about Transom windows, Home and House design. 12 Best Transom Windows Images. We are considering doors like these for our music room off the entry way. This pic shows an upper transom window. We would have two sidelight windows as well. Still trying to deci
Tags: Transom Windows: A Useful Design Element
Soft-Lite Elements® Window
Set Window, Glass, Frame Stock Vector. Illustration Of
Best 25+ Exterior French Doors Ideas On Pinterest
Adding Architectural Interest: A Gallery Of Interior
Masonite Element Glass Insert
Antique Stained Glass Masonic Lodge Window At 1stdibs
Windows Lite Could Feature Some Windows 7 Design Elements
Stained Glass Window Element With Hand-Painted Designs And
Stained Glass Windows
Types Of Windows
Abstract Design Element, Illustration Background Stock
Composition In Art ,How To Draw Perspective, Narrative
Window Treatments Hung Above Half Round Window
Architectural References
The Element™ Glass Insert Has A Simple Design With Clear
Coloured Pattern Printed On Clear Window Film.
MOST BEAUTIFUL WINDOW HOUSE DESIGNS
Compare Prices On Designer Glass Film- Online Shopping/Buy
Quoitzel Stained Glass Window Clings For Clear Transom
Country Home Decorating Ideas
Internorm HX300 Panorama, Großflächige Verglasungen
Etched Window Design: Amazon.com
Custom, Quality Replacement
Pencil Project: A Powerful & Easy-To-Use GUI Prototyping Tool
22 Best Images About Entry Doors On Pinterest
17 Best Images About Stained Glass Arches On Pinterest
Top View, Construction Symbols Used In Architecture Plans
19th Century Stained-Glass Window With Fleur De Lis Style
Used Commercial Glass Entry Doors /french Doors/ Front
Modern French Door With Solid Steel Thin Frame For Easily
Useful And Creative Advices
Design Elements - Doors And Windows
Spanish Style Wrought Iron Window Grills
Isolated Reflector Icon. Glass Vector Element Can Be Used
53 Best Xtreme Door Brochure Images On Pinterest
Toronto Frosted Glass Film Company
Window Mullion Styles & Casement Windows Design Sc 1 St
Symmetrical Design Elements And Fine-cut Stone Masonry
China Price Philippines Used House New Design Modern
500 Classical Architecture Facades Elements For Autocad
Boston Design And Interiors, Inc
Why You Should Not Use Stained Glass Windows For Your Home
File Explorer Will Get New Fluent Design Elements In 2020
Sandblast Frosted Glass By Sans Soucie, This Iris Flower
Design Element Cascade 48 In. W X 22 In. D Vanity In
A Heavenly Light: The Bryn Athyn Stained Glass Factory And
Design Element Sierra 40 In. W X 21 In. D Vanity In
Design Elements - Toolbars
19th Century Architectural Cast Iron Decorative Window
Pin By Barbara J On Stained Glass