Water resistant woods: this is what you should know
When looking for the most befitting stain for your outdoor (or indoor) wood project, several factors need to be considered. There are two main stain types according to their bases- oil-based stain & water-based stain; and in specific conditions, one is practically better than the other. Depending on the type of wood, any previous wood treatment & weather exposure, both these types of stains offer different levels of coverage & protection. Here are some properties of both the the stain types to guide your decision:
- The water-based stain is breathable, does not emit harmful fumes or odors, is not flammable, dries quickly, retains its color for a longer period of time, offers a richer hue of color, is extremely resistant to mildew and mold, and is easier to clean requiring only soap and water; while
- the oil-based stain needs more time to dry that allows for a more even finish, penetrates wood deeper, requires less for long-term maintenance, is extremely durable and offers a thicker seal for wood. 
The type of wood also plays a key role in deciding the right stain. For example, when coating a wood with natural resistance to rotting, it is better to use a water-based stain. Examples of this kind of wood are cypress, cedar & redwood. 
Similarly, previous wood treatment is a crucial factor to arrive upon the correct stain. If the wood to be stained bears a previous coating of stain/ paint, care should be taken to ensure a new, even protective layer. It may be difficult to ascertain the previous layer,  but knowing it will undoubtedly help in choosing the apt stain. If the previous layer is oil-based, opting for a water-based stain now is advisable as the latter will adhere better as compared to an oil-based one.   
The kind of weather the wood will be exposed to is also significant in determining the best stain-base. If the wood element is going to have a direct exposure to rain, wind & sunlight, an oil-based stain is the best option. This is because it is more durable than a water-based stain, and will impart a much better protective cover against these weather conditions.
Interior spaces like bathrooms & kitchens are also in constant contact with varying levels of high moisture, especially bathrooms. And so, staining the floors & other wooden surfaces becomes important in these spaces too. In this image, the stained pine floor looks natural even in the monochrome design.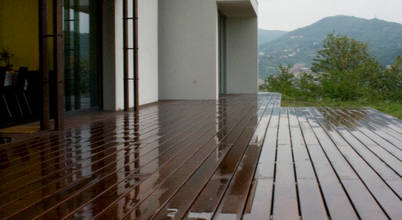 Water resistant woods: this is what you should know. Other water resistant wood types worthy of mention are Ipe, California redwood & bald cypress. Ipe is a widely used beautiful wood sourced from the tropical Trumpet Tree.Ipe is an extremely dense wood and over time it weathers beautifully to a light silver-gray; it has many variants certified by the Forest Stewardship Council (FSC).
Naturally Rot-Resistant Woods. Among exceptionally decay-resistant tropical woods are ipe, lignumvitae, purpleheart, and old-growth teak. Not quite as resistant as these, but still defined as resistant or very resistant, according to the FPL, are more common woods that are widely sold for outdoor use: various species of cedar, cypress, redwood, and white oak. The following
Video of Water resistant woods: this is what you should know
Water resistant woods: this is what you should know
ecies are quite resistant to water damage and suitable for outdoor use: * Teak - (Tectona Grandis) - which has been used to build ships for millenia * Redwood (Sequoia sempervirens) - which is very popular in America to build outdoor struct Choosing Rot Resistant Wood. The soft pine, fir and other white woods that are used to construct most homes today provide little protection again termite and rot. So, why don't we build houses entirely out of rot resistant wood? We could, but the cost would be prohibitive. You should start with a rot resistant wood like the options below and use a few tricks to prevent rot. How Water Resistant Is Poplar Wood?. Young, fast-growth poplar trees contain a greater concentration of sapwood than do the older, slow-growth trees. Sapwood is much less resistant to water and decay than is heartwood. This older wood tends to be darker in color than the newer wood, so keep that in mind when shopping for water-resistant poplar. 9 Mighty Woods For Outdoor Projects. The three most widely available and suitable exterior lumber choices, not treated with chemical preservatives, include Western red cedar, redwood, and cypress. Your geographic location will determine the availability and cost of these materials. Redwood, for example, is widely available and used in 9 Wood Species Best For Outdoor Projects. Expert Roundup: 9 Wood Species Best for outdoor projects . There are many types of outdoor furniture made of materials such as wicker, metal, stone, and concrete. Whatever your preference, there are a multitude of materials available to fit your needs. In this article we won't go over all of the different types, because, well, I would
Tags: Water Resistant Woods: This Is What You Should Know
Water Resistant Woods: This Is What You Should Know
Smart Plywood Brown Wooden Boiling Water Resistant Plywood
4 Reasons Why You Should Choose Waterproof Laminate
Top 5 Water Resistance And Waterproof Flooring Options
Flooring : Home Design Ideas
All About Hardwood Flooring + The Common Cleaner That'll
Bamboo Flooring Vs Engineered Hardwood: What You Need To
Waterproof Laminate Wood Flooring: 4 Advantages You Should
Creosote Can Become A Hazard
How To Make Wooden Baseboard Heater Covers.
Food Safe Wood Finish Polyurethane
Condensation In A Residential Cabin: Things You Need To
Water Proof Moth Resistant Outdoor Laminate Flooring Cheap
Termites Attack Treated Pine Fencing
Causes & Effects Of Dampness In Buildings
Food Hygiene What You Should Know Poster
What You Should Know About Bed Bug Resistant Furniture
Waterproofing A Basement From The Inside
Ladies Wood Watch By JORD
What Is Water Resistant Clothing? (with Pictures
Recommended Use: Understanding The Durability Of Your
BEWELL Men Quartz Watch, Luminous Pointer Date Wooden
How To Make Wooden Planter Boxes Waterproof?
Mod Podge Outdoor: Everything You Need To Know!
Full Guide: Type Of Wood Glue
Tamlee Bamboo Wood Watch
Camo And Gold Wood Watch
Wall Section // Vertical Board Siding // Above Synthetic
Warm Western Weathered Wood Shower Curtain
Do Ants Eat Termites
Outdoor Wood-Burning Furnace: What You Need To Know
Urban Decay Razor Sharp Water-Resistant Longwear Liquid
17 Best Images About Wood Rot / Damage
"Does Anyone Know Anything About Wood" I Need To Clad The
Possible Danger Signs On Purple Wood Stain You Should Know
Choosing The Right Laminate Flooring
How To Build A Raised Garden Bed
Airkrete - All Green Spray Foam Insulation
KAWS @Yorkshire Sculpture Park *SOLD*
How Do I Remove Water Marks From Wood? (with Pictures
12 Outdoor Survival Skills Every Guy Should Master